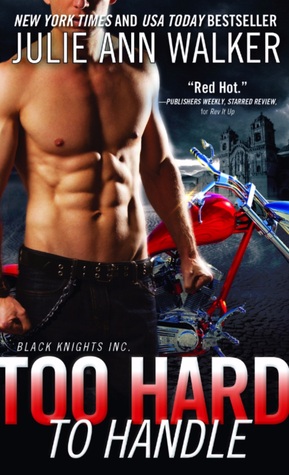 Author: Julie Ann Walker
Book: Too Hard to Handle (Black Knights Inc.)
tl;dr recommendation: If you're looking for suspense with sex, you must read this. Now. It's like an explicit James Patterson book. [Oh hi, heaven.]
Book Summary:
New York Times and USA Today bestselling author Julie Ann Walker continues her red-hot Black Knights Inc. series in rough-and-tumble Peru
"The Man" is back
Dan "The Man" Currington is back in fighting form with a mission that takes him four thousand miles south of BKI headquarters, high in the Andes Mountains of Peru. He's hot on the trail of a rogue CIA agent selling classified government secrets to the highest bidder, when Penni DePaul arrives on the scene. Suddenly the stakes are higher, and keeping Penni safe becomes Dan's number one priority.
And this time she's ready
A lot has changed since former Secret Service Agent Penni DePaul last saw Dan. Now a civilian, she's excited about what the future might hold. But before she can grab onto that future with both hands, she has to tie up some loose ends-namely, Dan Currington, the man she just can't forget. And a secret that's going to change both their lives-if they can stay alive, that is.
Longer Review:
4.5 stars!
Secret government operations twine with one sexy as hell relationship in this action packed story! I loved the fast-paced plot and slow burning romance, both of which held me to the pages and the edge of my seat. I can't get enough of stories where the bullets fly just as much as the whispered words and slick kisses.
Dan is a super alpha male with a sweet and vulnerable side. Do I love them any other way? Nope. He's trying to move on from the tragic loss of his wife and has never quite moved on. When he meets Penni in a previous mission and they share a earth shattering night together he can't seem to shake her from his mind. Neither can Penni – which is why she hunts him down at the practical edge of the earth. Unfortunately, she walks right into a government op that has just taken off.
If you're looking for suspense with sex, you must read this. Now. It's like an explicit James Patterson book. [Oh hi, heaven.] Julie does this type of plotline better than most and I absolutely loved the twists and turns she served up. I received all of the heart thumping scenes I wanted and the HEA I needed. I was dangerously close *winks* to kissing my kindle when it was over.
TOO HARD TO HANDLE more than satisfied my craving for danger and sated my desire for uhhhh MORE. Great suspense, hot as hell sex and devious villains make this book any lover of romantic suspense will die over. Get it nowww.
[I received an ARC of this book in exchange for an honest review]