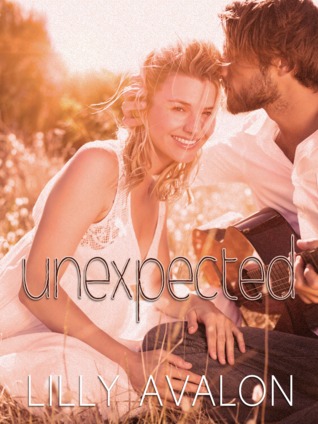 Author: Lilly Avalon
Book: Unexpected
tl;dr recommendation: This isn't just a kissing book, it's a book full of searing kisses.
Book Summary:
Ever had one of those days? Alina Lyons is having one. Everything keeps falling apart and going wrong. Just when she thinks it couldn't get worse, it does. After a case of mistaken identity and a broken heart, she finds herself questioning the things she thought she knew. She wonders who she can turn to or trust anymore.
An unlikely bond with her former best friend's ex, Ryan Wilcox, sends her life in a new direction. He offers her a place to stay while she gets her life back on track. His friendship is exactly what she's been missing—what she's been needing. Alina's never felt this alive. As time goes by, the dynamic of their relationship becomes more than either of them expected. A few innocent kisses could lead them in a new direction, but are they prepared for what's on the other side?
Only one way to find out.
*Unexpected is a standalone new adult novel*
Longer Review:
Ryan is passionate and adorable – and deserves so much better than his girlfriend, Victoria. It's almost a damn good thing that she's a conniving bitch. Victoria's betrayal throws Ryan and Alina together as friends…or something more?
Of course, Alina's luck isn't much better – in fact she's well on her way to having the worst day of her life. Or so she thinks. Her embarrassment in the shower is just the beginning. She then quickly becomes jobless, boyfriendless, bestfriendless and homeless in short order. Great fucking day. I'd be throwing my face into a pint of peanut butter chocolate ice cream right about then. Of course, Ryan swoops in to save the day. He's just a good guy. He's a good friend, brother, son and fuck…he's just a decent person – those don't come along every day, and Alina knows it.
Alina and Ryan are really sweet together – the book builds their relationship until you're dying to see them get together. Ryan is an incredibly patient man and while he knows that he wants more, he needs for Alina to get on board as well. She's terrified of opening her heart to her new best friend even though she knows that there's more there. In fact, her feelings for him are hard to ignore. As time goes by, the passion increases until they both are ready to combust.
The stolen kisses and nighttime hugs had the corners of my lips curling upward and breaking into a full blown smile. This isn't just a kissing book, it's a book full of searing kisses. Unexpected is also full of first dates and blanket forts and forehead kisses. Sweet, passionate and endearing, I was more than happy to let Ryan be my book boyfriend for the evening. 4.25 stars!
[I received an ARC of this book in exchange for an honest review]