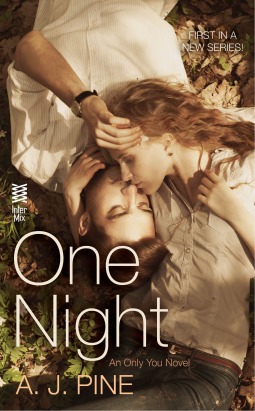 Author: A.J. Pine
Book: One Night – coming soon April 21, 2015!! PRE-ORDER NOW!
tl;dr recommendation: a sweet story of loss and a new chance at love.
Book Summary:
When she lost it all, Jess decided to cope by living a lie.
But you can't keep on pretending forever…
Twenty-one-year-old Jess used to have everything—a loyal best friend, a boyfriend she loved, and a future that was right on track. But in a single night, her whole world changed.
Now, Jess lives for the impersonal connection of drunken hook-ups and to-go coffee cups in the morning. All she needs is one night to pretend everything is fine…until she meets Adam.
Thanks to a sports injury, gorgeous, charming basketball star Adam Carson is stuck in physical therapy at the hospital where Jess interns—giving her the perfect opportunity to see his sweet, considerate nature and making her realize that maybe she does want something more.
But while Adam might be the best thing that's happened to Jess in a long time, letting him past her carefully constructed walls means letting him know what happened…and why he'd never want her for more than one night.
Longer Review:
This book gave me ridiculous butterflies. The incessant flirting, the constant rebuffs, the non-dates and the shitty coffee all had my stomach flipping over and over…
Jess is a tough one to read. She's searching for love – she's desperate for it – but she won't let herself get into a position where it's possible. She's dealt with too much loss and too much sadness to ever allow herself to feel happiness again. So, she sleeps with men, seeks the comfort of their arms, but throws them back into the wild the next morning.
Until she meets Adam. Even though she's barely touched him, he flips a switch in her that makes her change her quick-to-bed ways. But she's terrified. She doesn't think that she's worthy of happiness and she pushes Adam away. AGAIN AND AGAIN. (super frustrating for both Adam and me).
Adam is adorable, sweet, genuine and loyal. He plays basketball for the local college and is a semi-celebrity. Of course, he's also gorgeous. When he meets Jess who is the PT intern after he injures his leg on the court, he immediately knows that he wants more. Adam puts up with a lot of shit in this book – more than many men would be willing to deal with for a woman – but he sticks with Jess. His love for her is inspiring and incredibly sweet. The Sexy Vampire bits were some of my favorite parts of this book and just had me smiling like crazy. Zoe, Jess' roommate, was also a great addition to this story. She's an awesomely strong chick and she gives Jess a good kick in the ass when required.
Jess drove me crazy. But that's partly because she was driving herself crazy. You'll die a bit when you don't find out what happened to her until like halfway through the book, but as the pieces come together, it all starts to make a bit more sense. I was internally begging her to release her demons and find a way to be happy (with Adam). But Jess is forced to confront her past before she can move forward in her future.
The connection between Adam and Jess is palpable. I could feel the butterflies rising up as they tried to keep their actions innocent, even when their bodies betrayed their true desires. The writing here was fantastic and made me ache for them. Jess knows she shouldn't cross that line, but she can't help herself. The back and forth killed me, but my patience was greatly rewarded.
I'd be remiss if I didn't mention that one of the best parts of this book is Regan, the thirteen year old amputee. She is a hilarious and precocious kid who really rounds out the character cast. Her voice is needed to steer Jess in the right direction & keep her on her toes. I loved the banter between the two of them!!
Overall, I really enjoyed this basketball book (and I HATE basketball). It's an amazingly sweet and caring love story that you'll want to soak up.
[I received an ARC of this book in exchange for an honest review]